Name.Space Top-Level Domains
Since 1996, Name.Space has been creating new top-level domains by popular demand.
The Top-Level Domains created and operated by Name.Space are intended to serve a public good by applying the domain name economy to sustain our non-commercial public knowledge infrastructures.

Help Save the Internet from Corporate Control.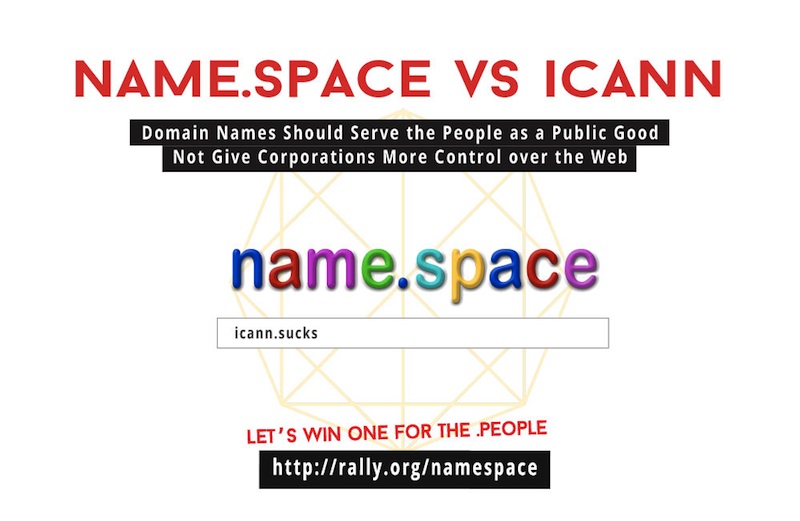 Defend NAME.SPACE v ICANN with your contribution to our legal fund and make a difference!
Name.Space distinguishes itself from other TLD registries in that it acts as a social enterprise, dedicating a portion of the profits generated through the sale of domains under its Top-Level Domains to social investments including funding for public libraries, community broadband, digital literacy and education, and support for full tuition scholarships at the Cooper Union for the Advancement of Science and Art. When you sign up for a domain with Name.Space you are making a contribution to the public good, investing in the future, and taking a stand for liberty, justice and freedom on the Internet.
Sampling of Name.Space Top Level Domain Properties
The gTLDs listed below are the Service Marks of Name.Space, Inc., 1996 - 2015
All Rights Reserved.
Generic Mixed-Use (Unrestricted) TLDs
| | | | |
| --- | --- | --- | --- |
| .AGENCY | .FOOD | .ONLINE | .TRADE |
| .HOTEL | .PROPERTIES | .TREND | .BAR |
| .HOME | .WORLD | .BUY | .GREEN |
| .SERVICE | .SPACE | .CAFE | .GUIDE |
| .SEX | .ZONE | .MAIL | .SHOP |
| .TOYS | | | |
Arts and Humanities (Unrestricted) TLDs
| | | | |
| --- | --- | --- | --- |
| .ART | .ARTISTS | .ARTS | .BAND |
| .CULTURE | .DESIGN | .FASHION | .GALLERY |
| .ILLUSIONS | .JAM | .JAZZ | .MAGIC |
| .MUSIC | .OPERA | .POETS | .PUNK |
| .RECORD | .REVIEW | .SOCIETY | .SOUND |
| .SYMPHONY | .THEATER | .THEATRE | .TOLERANCE |
| .WRITER | .WRITERS | | |
Technology (Unrestricted) TLDs
| | | | |
| --- | --- | --- | --- |
| .COMPUTER | .COMPUTERS | .COMPUTING | .CYBER |
| .EMAIL | .HACK | .HACKER | .INTERNET |
| .SHAREWARE | .SOFTWARE | .TECH | .UNIX |
| .WIFI | | | |
Media Related (Unrestricted) TLDs
| | | | |
| --- | --- | --- | --- |
| .ADS | .ALMANAC | .AUDIO | .BBS |
| .BLOG | .BOOK | .BOOKS | .BRAND |
| .CABLE | .CAM | .CAMERA | .CHANNEL |
| .CHAT | .COMICS | .COMIX | .DIGITAL |
| .DTV | .DVD | .ENTERTAINMENT | .FICTION |
| .FILM | .FILMS | .FUNK | .GAME |
| .GAMES | .GRAPHICS | .HOTLINE | .ICON |
| .ILLUSTRATED | .IMAGE | .IRC | .JOURNAL |
| .LIT | .LOUD | .LP | .MAG |
| .MAGAZINE | .MEDIA | .MODEL | .MODELS |
| .MOVIE | .MOVIES | .MULTIMEDIA | .NETWORK |
| .NETWORKS | .NEWS | .NOISE | .NOTICIAS |
| .PHOTO | .PICTURES | .POP | .PRESS |
| .PRODUCTIONS | .PUBLICATIONS | .RADIO | .RECORDS |
| .REPORT | .REPORTER | .SCIFI | .SHOW |
| .SPORTS | .STUDIO | .STUDIOS | .TALK |
| .TAPE | .TRIBUNE | .VIDEO | .VLOG |
| .WATCH | .WEATHER | .ZINE | |
Free Speech (Unrestricted) TLDs
| | | | |
| --- | --- | --- | --- |
| .AMOR | .CARE | .CONGRESS | .COOL |
| .EROTIC | .EROTICA | .FAIR | .FORUM |
| .FREE | .FUCK | .GOVERNOR | .HELL |
| .HOPE | .LIE | .LOVE | .MANIFESTO |
| .MAYOR | .NOW | .PEACE | .POLITICS |
| .PORNO | .PRESIDENT | .PRIVACY | .PUBLICADVOCATE |
| .RIGHTS | .SAID | .SAY | .SENATE |
| .SPEECH | .SUCKS | .TRUTH | .VOICE |
| .VOX | .WAR | | |
Community (Some Reservations) TLDs
| | | | |
| --- | --- | --- | --- |
| .AFRICA | .BUDAPEST | .CANADA | .CHAPEL |
| .CHURCH | .CITY | .CLUB | .COLLEGE |
| .COUNTRY | .CULT | .FAMILY | .FARM |
| .FELLOWSHIP | .FOLKS | .GAY | .GROUP |
| .ISLANDS | .KIDS | .LIBRARY | .MISSION |
| .NATION | .NYC | .PEOPLE | .REPUBLIC |
| .SCHOOL | .STATE | .TEMPLE | .TRIBE |
| .USA | | | |
Other TLDs (Restricted: require corporate registration, licenses, verification)
| | | | |
| --- | --- | --- | --- |
| .INC | .LAW | .LIMITED | .LLC |
| .LLP | .LTD | .NGO | .REALTY |
| .UNION | .UNLIMITED | | |
Miscellaneous TLDs
| | | | |
| --- | --- | --- | --- |
| .AIR | .ANTIQUES | .APS | .ASSOCIATES |
| .AUCTION | .BANK | .BEER | .CARS |
| .CASINO | .CIGARS | .COFFEE | .DIR |
| .DIRECT | .GEEK | .GOLF | .HELP |
| .HOT | .INDEX | .JEWELRY | .JOBS |
| .LIST | .MED | .MEDICAL | .MONEY |
| .MOTORS | .PARTNERS | .PLAY | .SALE |
| .SECURE | .SECURITY | .SITE | .SKATE |
| .SKI | .STORE | .SURF | .TAXI |
| .TRAVEL | .TUBE | .WINE | |